Alphonse Mucha Daydream Denim Wallet
Alphonse Mucha Daydream Denim Wallet With Coin Purse
Daydream features a beautiful dreamy-eyed woman holding a book. The background is decorated with pink flowers, their stems form an elaborate lace-like pattern.Mucha's work has continued to experience periodic revivals of interest for illustrators and artists. Interest in Mucha's distinctive style experienced a strong revival during the 1960s (with a general interest in Art Nouveau) and is particularly evident in the colorful psychedelic poster art.
Art by Alphonse Mucha
Movement: Art Nouveau/ Jugendstil
Beautiful artistic vintage floral fine art advertisement painting.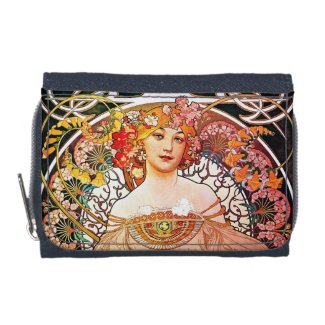 Alphonse Mucha Daydream Floral Vintage Art Nouveau Wallets by artfoxx
Find other Alphonse Mucha Gifts at zazzle.com